Tag us in a picture of your Living Journal and win a Free Art Kit!
Every week between now and the end of June we will choose a lucky winner to receive an art kit. All you have to do to be in with a chance of winning is send us a photo of a page of your living journal filled in or tag us in a photo of your living journal on Facebook, Instagram or Twitter.
Tag us @theyeatculture or send your picture to admin@theyeatculture with the subject Living Journal Prize Draw and your name.
Still haven't requested your free journal? Simply send your postal address to admin@theyeatculture with the subject Free Wellbeing Journal.
Full terms and conditions at the bottom of this page!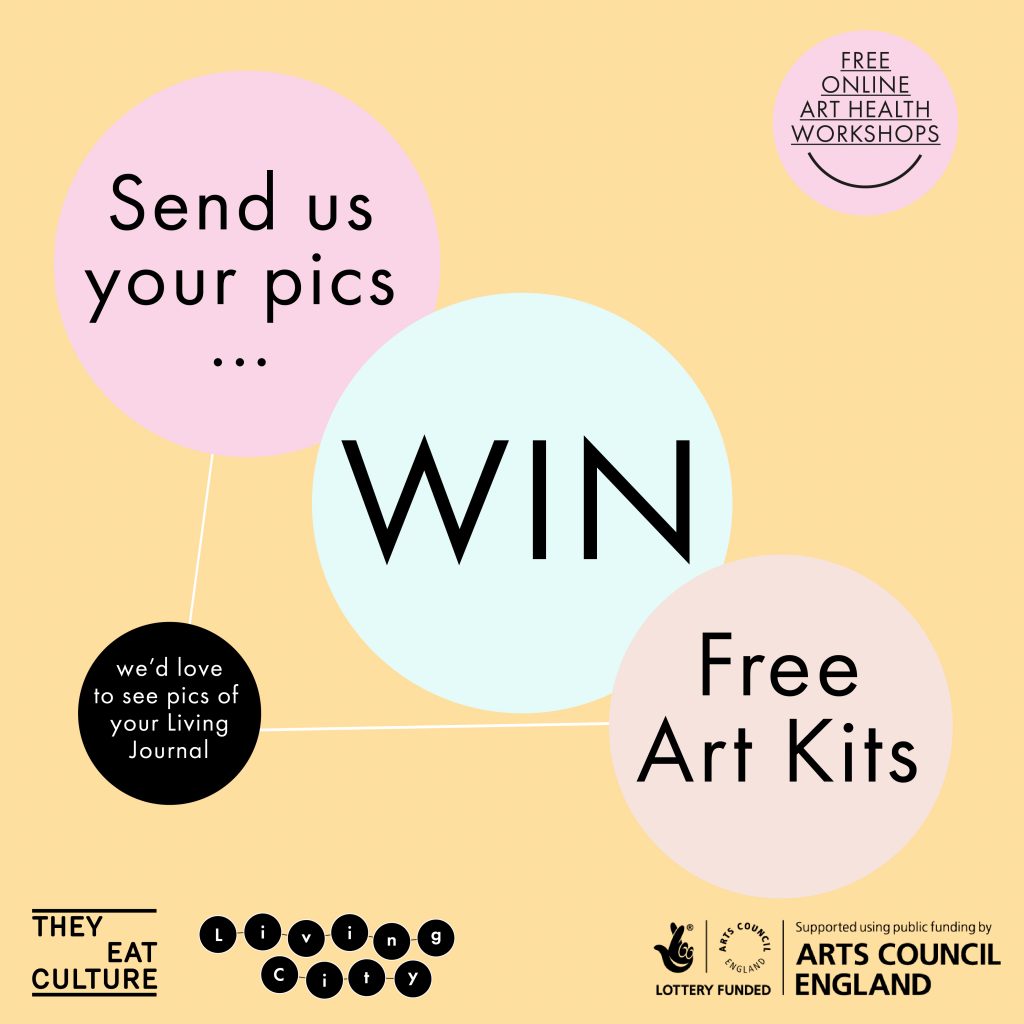 We have a great line-up of excellent Lancashire-based artists leading our workshop season. Learn to create a photo documentary, create mindful doodles and illustrations, write a short story and create a beautiful mindfulness journal out of scrap paper. The workshops are beginner friendly but also bring something new for more experienced artists.
Our workshops are free for those in PR postcodes. We do have an optional donate option and all donations will be used to support the arts outreach work of They Eat Culture. Any questions email: admin@theyeatculture.org
Free Wellbeing Activity Book
Receive your free Wellbeing Activity book designed by artist Lisa Wigham of Twoam Press. Email your postal address to admin@theyeatculture.org and we will pop one in the post for you.
Terms and Conditions for the Free Art Kit Competition
There is no purchase necessary as these books are free – if you would like a free journal (U.K. only) please send your postal address to admin@theyeatculture with the subject Free Wellbeing Journal.
This contest begins 10th May, ends 30th June and will run with a winner each Monday decided by a random selector on Facebook Live 4PM.
This competition is open to UK entrants only
This competition is not in any way affiliated with Instagram.
By entering this competition you give us the rights to use any images you have entered into the competition
A winner will be chosen each week from entries between Monday up until Sunday at midnight using an online random generator. Each Monday at 4PM a winner will be announced on Facebook live using the random number generator. All entries on social media or via email which show a complete living city journal page will be entered. 
This competition is run by They Eat Culture.
The prize is an art kit. We reserve the right to change the prize at any time for any reason.
By entering the competition any images become property of They Eat Culture and we are able to use your image as part of The Living City project, They Eat Culture and any affiliate project free of charge
By entering you agree to your name or social media handle being said if you are chosen to win the art kit.
This contest is not endorsed, sponsored or administered by Facebook/Instagram/ Twitter, nor are they associated with the contest. Facebook has no responsibility to entrants or participants.