The Living City project has worked with a diverse range of Lancashire artists.
The Living City Artist Responses
Luke Richards: Meet the Characters
Luke created the powerful portraits of some of our Preston Voices, reflecting the personalities of the characters as well as the local spaces important to them.
Read our Interview with Luke
View The Online Photo Exhibition: Meet The Characters
Charlie Holt: Confined Inside & Out
Charlie's moving exhibition for The Living City features residents from Croston, a village south of Preston, accompanied by words which reflect what they said they missed and what plans they had had for the future.
Read our Interview with Charlie
View The Online Photo Exhibition: Confined Inside & Out
Chantel Oakes: Resident Tourist & Other Stories
Chantel's phone calls with people in their favourite green spaces accompanied by photos of those places reminds us of the importance of nature. Chantal works as a site-specific creative practitioner using place to inspire and produce creative work with participants and as an independent artist, building physical and virtual pieces to make shows.
Read our Interview with Chantel
Listen To The Audio Piece: Resident Tourist & Other Stories
Stef Portersmith: Caged Birds
Stef's beautiful musical piece saw her working with a choir across Zoom.
Read our Interview with Stef
View The Audio Piece: Caged Birds
Workshop Artists
Lisa Wigham: Mindful Journals
Lisa is an artist who loves hand lettering and analogue printing craft. She uses these to make and illustrate books for adults and children; to play and connect with all things paper based. She recently began to learn about mindfulness and seeks out ways to help others nurture a wellness routine with art and craft.
She has enjoyed exhibiting, selling and gifting her books and prints under the name 'The Two a.m. Press', since 1997.
Website: www.twoampress.com
Instagram @two_am_press
Facebook @twoampress
Claire Walmsley-Griffiths: Shutter Release
Claire seeks to make human connections through photography by using a camera to start conversations.
Her work explores the psychology of people, places, our identity, what community is, was, and what it might become? She creates art installations using her pictures alongside audio recordings that trigger exchanges of shared experiences and consider how we measure self-worth. She is interested in collaboration and making connections with people by sharing alternative ways to take photographs through experimental techniques.
@cjgriffphoto Twitter
 @clairewalmsleygriffiths  Facebook
@cjgriffithsphoto Instagram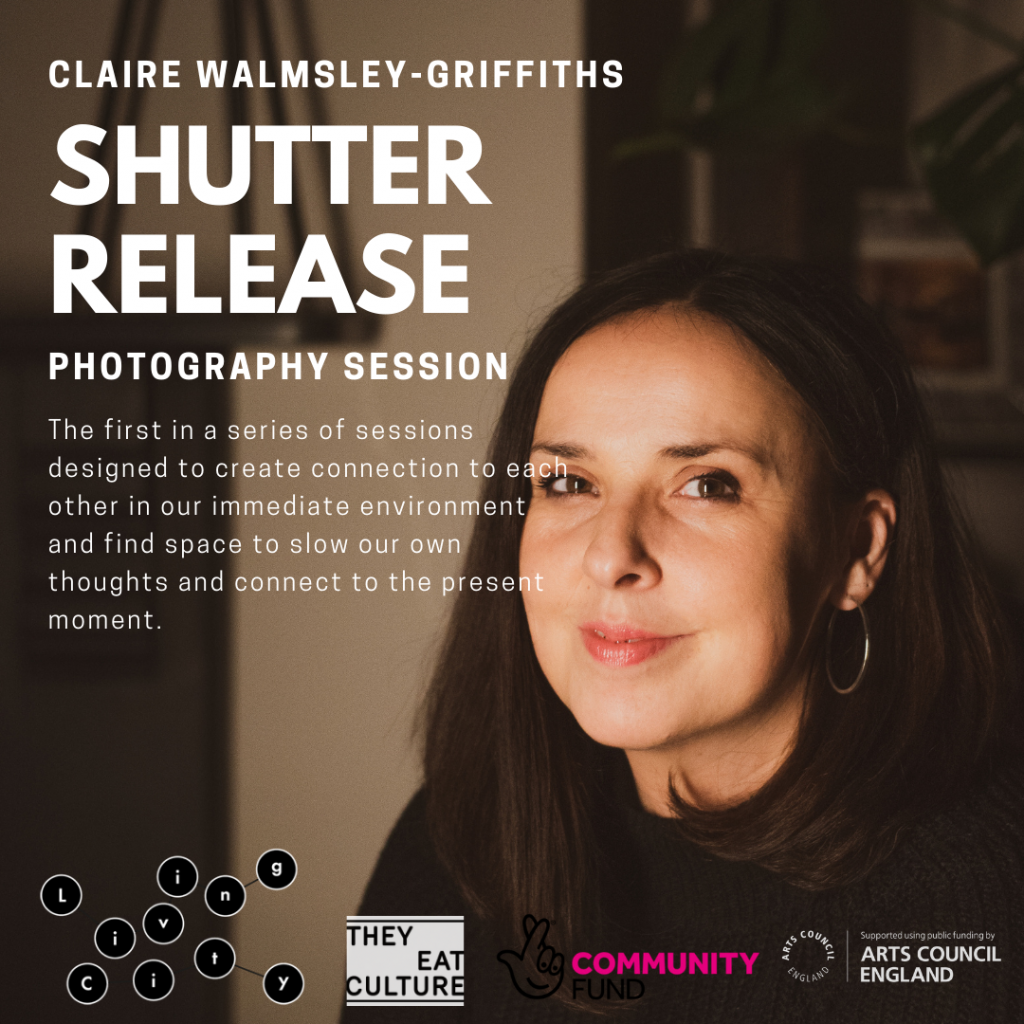 Louise Fazackerley: Wild Writing
Louise is a winner of BBC Radio 3 'New Voice' award, European poetry slam finalist and support artist for Dr. John Cooper Clarke.
She writes darkly humorous and otherworldly poetry and has two collections published by Verve Poetry Press and Nymphs & Thugs. Louise is a highly experienced workshop facilitator who believes in person-centred writing practise.
Website: www.louisethepoet.co.uk
Twitter and Instagram: @louisethepoet
Facebook: Louise Fazackerley- poet
Danielle Chappell Aspinall: PrestonTonic Positive Doodles & Mindful Drawing
Danielle is an artist and designer who explores identity through drawing people and places. She has worked as an eco-minded textile artist and jewellery designer, sharing her joy of 'make do and mend' by repurposing throw away materials as playful art workshops and street events that delight people of all generations with community spirit. This shares awareness of creative solutions for positive change to support mental health and wellbeing
Instgaram and Twitter: @YappersChappers
Facebook: YappersChappersDesigns