The news that Topshop and Debenhams have closed is a significant blow to the high street. The death of the Preston's high street is a slow one, with BHS closing in 2016 and more recently Laura Ashley, Go Outdoors, Monsoon and Victoria's secret among stores which have fallen into administration. In 2020 online sales made up 27.9% of sales compared to 19.2% in 2019. Lockdown has changed our shopping habits to favour online shopping yet many people in our Living City interviews spoke about the importance of local shopping. Josie, Russell and Emma shared why they thought supporting local was more important than ever – something which could revive the high street whilst supporting local businesses.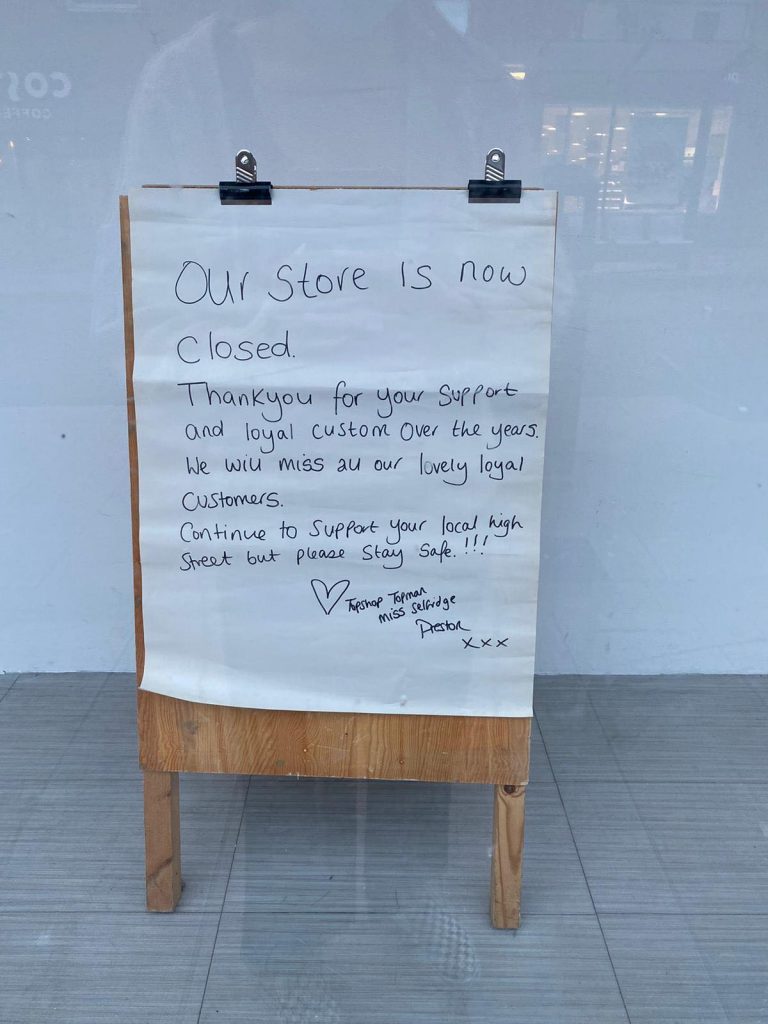 Large retail units are hard to fill, Preston's former BHS store has never been replaced and remains a ghost in our town. The space needs to be repurposed, perhaps as housing – an idea explored here. We could turn the retail unit into a space for independent retailers to share space, or local pop up restaurants to create a communal dining space similar to what cities like Manchester have done with Mackie Mayor. This could add vibrancy and local identity to our city however it relies on our city embracing and asking for these changes.
We spoke to Jo, former manager at Preston's Topshop about the closure, "It was a very sad day for retail when Topshop Topman closed it's doors. Unfortunately over the years shopping culture has changed, and with the lockdowns this has been very difficult for the high street." There are things that online retail brands can't provide, Jo said "Online shopping can't replicate the instore experience, personal service and social enjoyment that real life shopping offered. I will really miss our loyal customers and friendships that formed over the years. Despite the convenience of online shopping I really hope that retail returns to the high street one day."
As we ease out of lockdown we need to support the city centre and keep money in the local economy. Topshop owner Philip Green, and his wife were described in the Sunday Times of living a "champagne lifestyle…while his Arcadia retail empire faces a bleak future. More than 14,000 staff at its 550 shops were furloughed in the coronavirus shutdown, with most of the cost covered by taxpayers. Arcadia was already in deep trouble: it lost £93.3m in 2018-19 and was saved from collapse last June under a deal with creditors."
At the Living City we have talked about the benefits of spending locally. Giving money to local businesses means your money is more likely to be spent in the local economy and thus create a booming local economy that benefits us all by creating a truly Living City where we have many opportunities to live, work and play.
It will be difficult for small businesses to re-emerge after the pandemic but it is in our interests to support them and allow them to flourish as we rebuild our city. The death of the high street can then become a reincarnation which benefits us all in Preston.